Why Acupuncture
We believe that the proper balance and smooth flow of qi (pronounced "chi") is critical to our overall health. Although it is invisible, qi energy flows through our bodies along channels known as meridians. Blocked or stagnated qi can cause pain and other symptoms.
At Yang Institute, we use acupuncture to open the blocked energy channels, facilitate the flow of qi, and reestablish patients' energetic balances while boosting their natural healing abilities.
Experien

ce Acupuncture

Treatme

nt at Yang Institute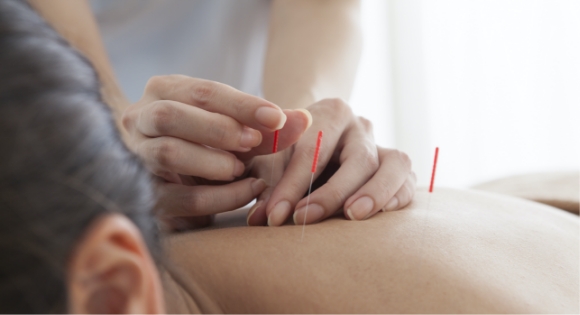 Comprehensive Diagnosis

First, you'll meet one of our highly trained practitioners. Yang Institute's medical staff includes MDs, PhDs, and doctors of naturopathy, herbalists and acupuncturists. Our doctors get a complete medical history, do a tongue diagnosis and gather other information about your lifestyle.

Customized Plan

Based on the diagnoses, our experienced Chinese medicine doctors and acupuncturists will decide the points selection, treatment approaches and other methods to be included, such as herbal medicine, cupping or moxa.

Systematic Treatment

Yang Institute acupuncturists insert very thin, disposable, stainless steel needles into selected points throughout patients' bodies. The points correspond to meridians where qi is blocked or stagnated. Sessions last 30-60 minutes depending on the complexity of conditions.

Superb Experience

Improvement is generally seen within the first few sessions. Patients who have chronic conditions may require 12 or more treatments to generate significant results.

Success Stories
Dr. Gong has treated me for a variety of chronic issues. She is knowledgeable, highly skilled, thorough, kind and compassionate. She had helped me tremendously, particularly with pain management. She is an exceptional doctor and healer.
I'm very happy to have found this place. I go for Acupuncture now and it's changed my whole life. It's so relaxing being there. I see Edmund and he is fantastic, he always takes time out to talk and make sure I'm doing OK. Even Erin at the front desk, her presence and the conversations… read more
Dr. Zhang has helped me manage menopause! I came to her quite distraught, as suddenly, with the onset of menopause, my lifelong healthy habits no longer seemed to apply to my aging body. Now, I feel well-balanced and once again in command of myself. Using acupuncture and a single herbal remedy, she has eased all… read more
Having read Dr. Yang's book, Facing East plus reading testimonials, I decided to try acupuncture for arthritis pain (neck and shoulder.) Dr. Brucker spent quality time with me to understand the physical and psychological effects of my condition. I received weekly acupuncture. After about 8 treatments, I have zero pain and full rotation in my… read more
I've been seeing Dr. Mirro since 2017 and I have nothing out praise. He has helped through the most difficult times of my life and ensured that I came out stronger than before.
Dr. Gong works diligently taking care & making sure my body functions at 100%. She asks questions, listens & then proceeds. Within mins I'm feeling better.
The treatment continues to work on my body days. Try the treatment, let it work on you. You'll be pleasantly pleased.
Rebecca, at the front desk, is the nicest person I've met! She and Erin are both very accommodating to all my schedule needs. Edmund is the best when it comes to treating me with acupuncture! He answers all my questions and continues to inform me as to the steps we should take in my ongoing… read more
Dr. Zhang is a master. I have seen her for a few different and sometimes confusing issues and have been amazed by how effective her treatments are. My sleep after a treatment is noticeably better and more restorative, as well, which helps with healing! Thank you!
I had breast cancer and mastectomy on my left side. I am grateful that I am cancer-free. However, I have had severe pain and limited range of motion on my left shoulder, allegedly due to scar tissues. I scheduled for surgery to fix it. Dr. Yang suggested he try acupuncture treatments on me to see… read more
Dr. Mirro was my doctor for years and made me feel safe and trusted. He explained my conditions and medications to me without making me feel like a child, which I often find happens with mental health practitioners. Our appointments never felt rushed and I was always encouraged to share more. He helped me figure… read more
Locations
Monday – Friday: 9:00am – 6:30pm
Saturday: 9:00am – 2:00pm
"The Best Physicians & Specialists Near Me!"