Edmund Gibson, L.Ac. MSAOM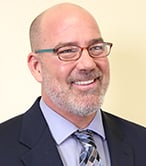 Senior Acupuncturist, Traditional Chinese Medicine, Acupressure, Cupping, Moxibustion,
Chinese Herbal Medicine, Tuning Fork Therapy
Locations
Bryn Mawr, PA
Edmund Gibson uses his acupuncture treatment skills and sports medicine experience to help athletes get back on the playing field. Edmund's passion is sports medicine, with the belief that acupuncture can save athletes from surgery, or aid them both before and after surgery.
In 1997, Edmund injured his back in a surfing accident, suffering a sciatic nerve impingement and a herniated disc. In therapy he was exposed to Eastern Medicine for the first time. Acupuncture and yoga helped him recover from his back injury.
Inspired by the experience, he enrolled in the Santa Barbara College of Oriental Medicine, where he earned a Master's Degree in acupuncture and traditional Chinese medicine.
From his years in the field, Edmund brings extensive clinical experience. He has studied in over a dozen acupuncture clinics throughout Osaka, Japan, where he has observed and worked with some of the country's most prominent doctors. He has also spent time working with widely known Master Herbalist Dr. Henry Han, at the Santa Barbara Herb Clinic.
Edmund was also an on-board Acupuncturist for many years, traveling the world on cruise ships working for Steiner Leisure Spa. Through the cruise ship experience, Edmund strengthened his clinical and communication skills.
Since joining the Tao Clinic of Acupuncture, Edmund has received further training from Dr. Jingduan Yang, M.D., practicing acupuncture effectively within the context of integrative medicine.
Edmund also has special certifications in the field of addiction, including completion of the National Acupuncture Detox Associations course. He is an Addiction Recovery Specialist as well as a Certified Recovery Specialist. Detox Associations course work. Edmund is an Addiction Recovery Specialist as well as a Certified Recovery Specialist.