Ruonan Zhang, M.D. (China), L.Ac.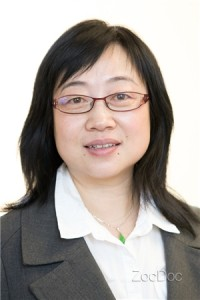 Acupuncture and Herbal Medicine
Locations
Bryn Mawr, PA
Dr. Ruonan Zhang is a practitioner of Traditional Chinese Medicine. She specializes in treating acute and chronic pain, fertility support, reproductive and gynecological conditions, cancer treatment side effects including surgeries, chemotherapies and radiation, healthy aging support, emotional well-being and rehabilitation of stroke and spine injuries.
Dr. Zhang received her medical degree from Shaanxi University of Traditional Chinese Medicine in China. She has a Master's degree from the Fourth Military Medical University in the Integration of Chinese and Western Medicine for Cancer Care. She had worked as an attending physician in hospitals in China for over ten years. Dr. Zhang has also been working with Dr. Yang at Tao Integrative Medicine and the Myrna Brind Center of Integrative Medicine at Thomas Jefferson University Hospital since 2008.
Dr. Zhang has over twenty years of clinical experience in practicing acupuncture, Chinese herbal medicine, and western medicine. She combines facets of both eastern and western medicine to provide customized treatment plans for each patient's condition.
Insurance: Dr. Zhang is an approved In-network Provider of Horizon Blue Cross Blue Shield and Cigna.