COVID-19 Induced Post-Traumatic Stress Disorder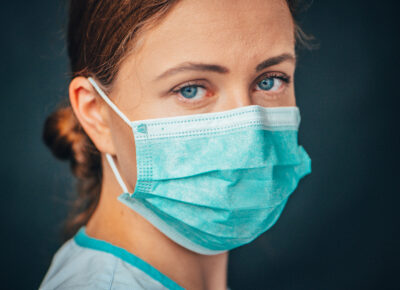 Among all the long haul symptoms of COVID-19, severe mental impact has drawn the attention of psychiatrists and therapists.
The Case of Nurse J.
What J., a nurse, experienced, is a particular case.
J. worked in the hospital and spent a lot of her days with seniors who were sick or dying from all kinds of illnesses, including COVID-19. 
J. had experienced significant trauma when her mother was in the ICU with lung failure due to COVID-19. Her mother did not survive Covid. As a nurse with a demanding schedule, she spent little time with her mother before her passing away and was swallowed by extreme regret and grief. Eventually, after six months of struggle, J. was able to accept the reality and gradually calmed down. 
Her Trauma Started after COVID
Then, she contracted COVID herself. The disease rapidly developed into severe pneumonia with fever, cough, severe fatigue, and, most dangerously, respiratory distress and reduced oxygen saturation. She ended up in the ICU. 
During this time, images of mother struggling in the ICU and her eventual death flashed through her mind, and she was overwhelmed with the fear that she might die too. 
Fortunately, she survived after assisted ventilation, oxygen, high doses of steroid therapy, and antibiotics to combat secondary infections. J. was gradually recovering. 
New Mental Symptoms Changed her Life
However, she developed some new symptoms that she had never had before, including insomnia, nightmares, fear of going to work, crying spells, etc. "As a result, she had to rely on temporary disability. J. became even more depressed and panicked because she loved her job. 
J. felt her life becoming worthless and meaningless. It reached a point in which she wished she had not woken up each morning"
So what exactly was J. suffering from ? From the perspective of psychiatric diagnosis, J. had chronic post-traumatic stress syndrome (PTSD).
Her trauma was the fear of experiencing life and death. Additionally, much of the trauma surrounding her mother's death resurfaced.
The Past Traumas Magnify her Current Trauma Response
To J.'s surprise, the death of some of the patients she had cared for had a far greater emotional and physical impact on her than she had imagined. Somehow, the new trauma had activated old stress. The compounded present and past traumas completely magnified her current trauma response, finally causing her to collapse.
J. Is not Alone
A British study found that 18% of patients discharged from the hospital had clinical or subclinical PTSD after three months, especially in women, those with past mental illnesses, and metabolic syndrome, including obesity, high blood pressure, high cholesterol, and high blood sugar. 
The death of friends and family due to the new coronavirus pandemic, the social isolation, the decline in the economy, the pressure of job loss, the media-driven fear, all combine make us feel helpless, anxious, and afraid, especially when it brings back the trauma we have experienced in the past and makes us feel overly stressed.
Signs to look out for
It is completely understandable that we can become wrapped up in our busy lives amidst the increasing stress we collectively experience during the pandemic. However, taking a pulse of how we are handling this unprecedented stress and trauma is key to successfully managing our mental and physical health going forward.
To start, you can ask yourself a few simple questions:
Do I constantly feel tired and exhausted?
Do I suddenly have ongoing headaches, stomach aches, or general G.I. issues?
Do I suddenly feel negative, cynical, or emotionally distant/numb?
Am I having a difficult time finding motivation to complete basic tasks?
Am I finding it difficult to pay attention, concentrate or focus?
If you answered yes to any of these questions, you may be experiencing symptoms related to stress, trauma, and burn out.
Self-Care
Self-Care can look different for everyone. The road to mental, physical, and spiritual wellness is not a "one size fits all," but rather a bespoke arsenal of integrative tools and techniques to bring us back to our baseline.
Examples of what you can do on our own are:
Meditation and practicing mindfulness

Exercise

Journaling

Healthy diet

Connecting with loved ones
Get Help at Yang Institute
When the first line of independent defense against stress and burnout is not enough, Yang Institute, with its experienced integrative mental health psychiatrists, therapists and locations in Philadelphia, Mainline, PA and South Jersey, can assist you through treatments such as:
Psychotherapy: in-person, or tele-health

Medication Management

Advanced Nutrient Therapy

Acupuncture

Neuro-Lipid Therapy

Chinese Herbal Medicine

Spiritual Counseling

Neurofeedback

Transcranial Magnetic Stimulation (TMS)