Infrared Sauna Therapy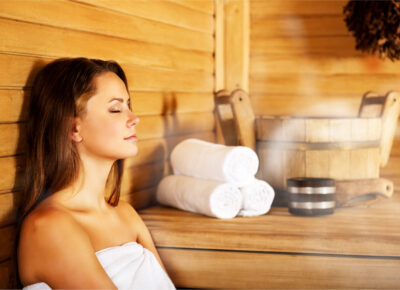 Sweating is good for you. Seriously, sweating is one of the body's safest and most natural ways to heal and maintain good health. Our state-of-art Full Spectrum (near, mid, and far) Infrared Sauna helps promote a deep, healthy and natural detoxifying sweat.
Detoxification is important because it strengthens the body's immune system and helps the body's biochemical processes function efficiently so that we are better able to digest the nutrients in our foods. Detoxification has also been shown to be helpful with colitis, chronic fatigue, fibromyalgia, auto-immune disease, immune deficiency states, autism, ADD and ADHD. -Dr. Rachel West
Infrared Sauna Detoxification
As the world moves toward more natural and self-directed treatments, sauna detoxification is getting more and more attention.
Why? Well, the leading principle of sauna detoxification states that the build-up of toxic substances can lead to a host of common illnesses. Ridding the body of these toxins through a natural sauna detox may help relieve symptoms, prevent future illness and increase overall health and vitality.
The United States Center for Disease Control estimates that the root causes of more than 80% of all illnesses are found in personal environments or lifestyles. In other words, the world around you can make you sick. It's in the air we breathe, and in the food we eat. There's very little we can do to reduce exposure. We can, however, use sauna detox as a treatment.
Why Infrared Sauna
Far infrared saunas are believed to be more effective in moving toxins through the skin than traditional saunas because in a far infrared sauna only 80 to 85% of the sweat is water with the non-water portion being cholesterol, fat-soluble toxins, toxic heavy metals, sulfuric acid, sodium, ammonia, and uric acid.
One of the best ways to eliminate these stored toxins and chemicals is through sweating. Along with detoxification, other health benefits you will experience with regular infrared sauna use include increased circulation, skin rejuvenation, pain relief, weight loss, lowered blood pressure, and much more.